The year was 1984 and I was an awkward freshman in High School. I used to jump on my moped and ride to the Ohio State University campus area whenever I had two cents in my pocket to look for new music at the crappy little record shops. The album pictured below was one of my purchases. I remember being so disappointed when I got home to find that it wasn't the full scale punk rock assault I had been guaranteed at the record shop. Times were changing and bands like
The Replacements
and
Hüsker Dü
were maturing into a sound that would gain more widespread appeal. In both cases it was done with great care so as not to lose the original message. It wasn't until around a year later that I put away my
Black Flag
records and finally gave this one a serious listen. These were great times and this song brings it all back for me. I hope it does for you as well.
The Replacements
were a 4-piece from Minneapolis, Minnesota that started out in 1979 and are familiar to most of you. I'm not sure when or where but they gained the name "
The 'Mats
" from an insult where they were referred to as "
The Placemats
" when starting out. There was also always a buzz of competition between them and local so-called rivals
Hüsker Dü
. I heard a recent online interview with
Bob Mould
and he laughed at the question saying they all hung out at the same clubs and it was a ridiculous take on what was happening at the time. I could keep blathering on but will instead give you the fan websites to visit. They have plenty of info on the history of the band.
Color Me Impressed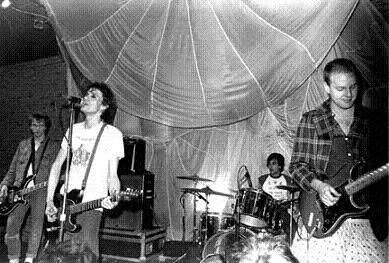 There is also a fairly active MySpace group dedicated to The 'Mats you should check out if you get the chance. After 5 years on Twin Tone Records and several years on major labels The Replacements broke up in 1991. The subsequent solo work of Paul Westerberg pretty much sounds like an ongoing version of his song from the 1992 movie Singles. I honestly can't recommend anything he's done solo with good conscience. Chris Mars, however, had an incredible 1992 release (to me anyway) in Horseshoes & Hand Grenades and has some great art work also. I can't find that old cassette tape anywhere... grrrr. Happy Sunday!




MP3: I Will Dare (1984)